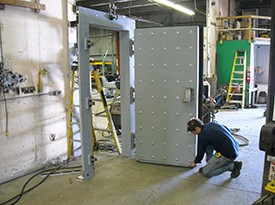 VG Engineering provides single-leaf, double-leaf, bi-folding and tandem configurations of swing doors to suit customer dimensional, acoustic and operational requirements.
Personnel door configurations conform to ease of operation to ADA requirements.
All door and frame components are factory assembled and tested as a complete assembly prior to shipment.
Factory assembly includes the installation of all seals, hinges, hardware and glazing as required. On arrival at site the door is ready for fast and easy installation.
Doors feature heavy duty hinges and adjustable bottom seals to adapt to site floor conditions.
Doors are available with fixed or split frame assemblies to enable installation to suit the site installation requirements including existing openings.
Single-Leaf, Double-Leaf, Tandem or Bi-Fold Designs are suited to a number of applications including:
Mechanical Equipment Rooms
Machinery Enclosures
Control Rooms
Test Facilities
Aero-engine Test Cells
Secure Areas
Sensitive Compartmented Information Facilities (SCIF)
Test Laboratories