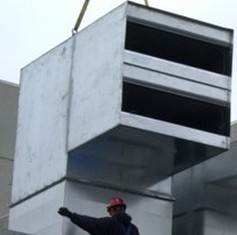 VG engineering produce a range of silencers for HVAC systems made from G60 and G90 Galvanized steel, stainless steel and aluminum in thicknesses of 16 and 22ga.
Silencers are supplied with acoustic glass fiber medium wrapped in a liner to maintain clean air in the system, or pack-less, no fibrous acoustic media designs to suit the application.
Silencers are provided to suit the system flow, pressure drop and acoustic requirements.
Silencer types include:
Rectangular
Circular
Straight
Elbow
Uses include:
Churches
Theaters
Auditoriums
Laboratories
Clean rooms
Libraries
Restaurants