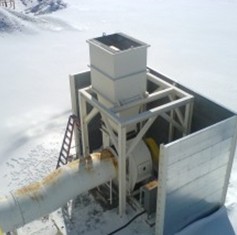 VG Engineering produce a range of Centrifugal Fan Exhaust Silencers that are matched to the fan outlet air flow profile to provide the lowest additional pressure to achieve the required sound reduction. Rectangular exhaust silencers with a plenum at the fan outlet are most cost effective for acoustic performance and system pressure effects. Exhaust silencers have mounting flanges to suit standard fan bolt patterns for easy installation. Where vertical applications are required, aerodynamically enhanced, acoustic plenums can be provided. Flexible seals between the silencer and fan can be eliminated by mounting the silencer on support legs and vibration isolation pads so that the exhaust silencer can be directly mounted to the fan. Silencers are fabricated using galvanized or stainless steel with optional paint or epoxy finishes available. Exhaust silencer baffles are provided with perforated metal face sheets with options of acoustic glass fiber medium wrapped in a liner to prevent dust absorption or pack-less, no fibrous acoustic media designs for high dust particulate applications.
Options include: filters, provision for air flow monitoring, bird screens, rain hoods and cleaning access points.
Typical applications are on the outlet of centrifugal fans in process air, exhaust air, dust collection, and ventilation air systems.