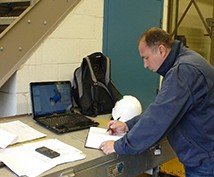 Solving Your Problem
No matter what your requirement is, be it large or small, for a new project, retrofit, upgrade or review of an existing system that is not working as required or where better performance is required, we are ready to listen and help. If you would like a second opinion before committing to a project, we would welcome a call from you to discuss the requirement. "Getting it right first time", means making sure the issues are known and addressed, the solution is the right one and is implemented correctly. That is what we are here to do every time, first time.
Engineering You Can Trust
From initial review of the client requirement, through design analysis and modeling, to fabrication level drawings and specifications, you can rest assured our solutions will fully address your total needs. We provide solutions using class leading CFD and FEA software, in-house developed acoustical analysis and most importantly engineers with extensive real world experience in the design, development, installation and commissioning of noise control devices and flow systems. Our specialist design teams are dedicated to make sure that solutions meet the client expectations.
Committed to Quality Engineered Services and Products
Providing Engineering services and products to customers is our passion. We operate under our ISO 9001:2008 certification, to maintain the highest standards in engineered design and manufacture offering the most efficient, permanent solutions to client requirements in the markets served. In contrast to other companies, VG Engineering brings original thought, proven experience, a high degree of understanding to client needs and our commitment to Product Innovation and Service Excellence. As a client of VG Engineering, you can be assured that your requirements are met or exceeded to ensure delivery, quality, cost of ownership and life time performance are an industry standard.
Full Service Capability
If you have a problem that needs resolving we offer a full range of services to provide a "turn-key" one stop solution to fully meet your needs covering every aspect from defining the requirement, through design, manufacture, installation, commissioning and training. All projects are overseen and reviewed by the company Principle Engineers who are directly involved at all stages to ensure clients' needs are addressed and fulfilled on time and to budget. We have a broad understanding of many industries and their unique requirements, with the experience to know that similar requirements do not necessarily mean that a "cookie cutter" solution will work. We take great pride in working with clients, confident that the project will be completed to resolve the requirement. Our proven ability to perform has formed the basis of a number of long term customer relationships, their trust is also shown by referrals for new business.