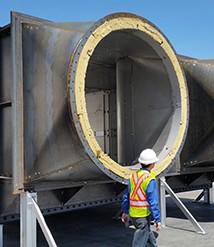 VG Engineering acoustic solutions provide for a range of industrial applications including research and development, manufacturing facilities, construction sites, distribution centers, and food, chemical and process plants. We offer a wide range of acoustic solutions to mitigate noise in the work place and surrounding communities.
In addition to our acoustic expertize we offer design capabilities to analyze and optimize flow and heat transfer in existing ducted and pipe systems to improve efficiency using our extensive CFD modeling experience.
For office, in-plant and community noise control we offer:
Equipment Enclosures
Machinery Vibration Isolation Solutions
Personnel Enclosures
Ventilation Silencers
Cross Talk Silencers
Noise Absorption Ceiling Baffles and Wall Panels
Acoustic, Fire Resistant Doors
Acoustic Windows
Noise Barriers
Stand-by Generator Enclosures
Mufflers
Cyclones
Cleanable and Tuned-dissipative Silencers
Acoustic Blankets and Pipe Cladding
We also offer air pollution and dispersion analysis and mitigation solutions for concentrated process exhaust fumes that may affect the local area and nearby communities under ambient conditions.
For Research and Development VG Engineering offer design services and products for:
Automotive wind tunnel flow and noise control
Anechoic and Semi-anechoic chambers
For the transportation sector VG Engineering provides analysis and design services for tunnel ventilation system noise and flow control. Products include: Jet fan noise control, Tunnel Ventilation Silencers, Noise Barriers and absorptive acoustic panel systems.