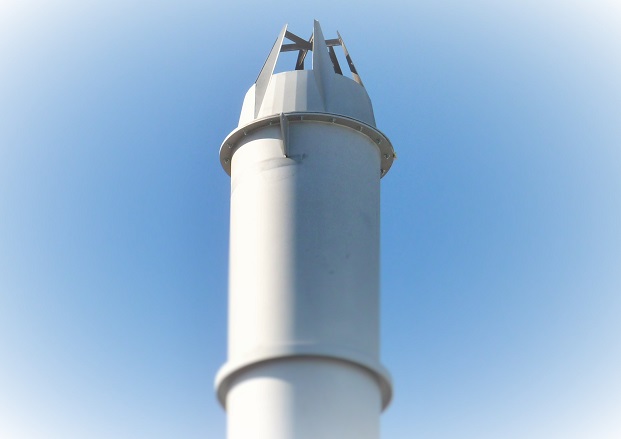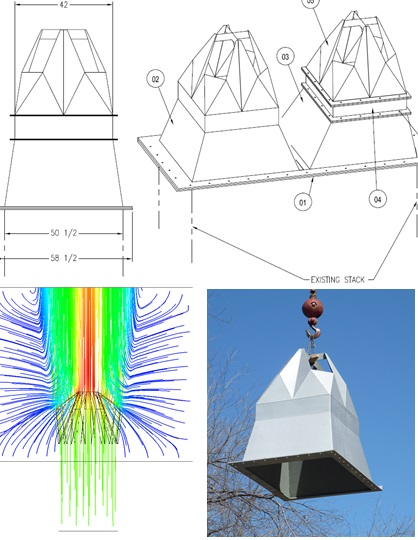 VG Engineering
offer
Advanced Dilution Nozzle
assemblies for a wide range of applications as a cost effective alternative to the requirement of a tall stack normally used to disperse exhaust gases containing pollutants and noxious particulates. Tall stacks have the associated issues of cost, construction and height restrictions imposed under zoning by-laws. This often results in short stacks being used for most applications that fail to adequately disperse the exhaust gases due to low level atmospheric conditions, topographical issues and adjacent structures such as buildings, trees and fences.
Incorporating an Advanced Dilution Nozzle alleviates issues with surrounding communities without visual blocking from a tall stack that can often be an issue for neighbors.
Adding an Advanced Dilution Nozzle compensates for the disadvantages of a short stack using a Patented 3-Dimensional design configuration to induce ambient fresh air into the flow to decrease the exhaust particulate concentration and accelerate the exhaust gases to a higher altitude before dispersal into the atmosphere.
Based upon the customers mass of the exhaust flow, pollutant concentration, particulates in the exhaust stream, the source location and location of neighbors that are effected VG Engineering can supply a diluter assembly that reduces the drift of odor, smoke, mist and other particulates that effect the surrounding community and neighbors.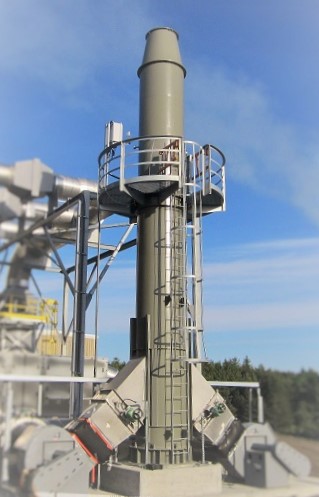 VG Engineering
offer a range of custom designed steel
exhaust stacks
in single and multi-flue configurations, covering a variety of applications and industries. Each is designed to customer and industry standards for the application to provide a cost effective solution.
Our stack designs are based upon proven engineering experience and use of class leading CFD, structural, thermal, dispersion and acoustical analysis software tools to ensure system efficiency and structural integrity for a long, low maintenance life based on the process medium, physical installation location and climatic conditions.
Exhaust stacks are fabricated and installed in accordance with our standard QA/QC procedures to insure that all processes, manufacture and assembly are to the highest standards. Dependent on the customer application exhaust stacks are fabricated in single or dual wall insulated configurations with base or side breach inlets, from mild steel, stainless steel or other alloys.
Duel wall liners include alloys suited to extreme operating environments.
A range of insulation liner materials can be provided to meet the process and medium requirements these include: glass fiber, basalt and ceramic
Protective finishes to suit the application and customer requirement are applied after the required surface preparation and include paint, epoxies and high temperature zinc coatings.
Dependent on the application and design we offer free standing self- supporting, guide wire or tower frame supports.
Exhaust stacks can be provided complete with:
Expansion joints
Access ladders, platforms or lifts
Access hatches
Emissions sampling/measurement and instrumentation mounting points